Nestled at the foot of the San Gabriel Mountains, about 20 miles east of Los Angeles, in the heart of the San Gabriel Valley. Intimate and neighborly, the Covina Downtown still retains an authentic hometown atmosphere where friendliness is a tradition.
---
Business Spotlight:
Giovanni's International Restaurant
Covina's best kept secret! For a business lunch or romantic dinner,Giovanni's can't be beat. From our homemade soups and sauces, to our always fresh salads and pastas, the taste will always bring you back.$6.95 Lunch specials daily and $8.95 "Early Bird" specials Tuesday - Thursday. Stop by and see why it's Covina's favorite place to eat!

Events in Downtown Covina:
| | |
| --- | --- |
| Wednesday-April 5th | RON SHY IN CONCERT - Garden Room @ "Giovanni's",114 E Italia St,Covina,Ca.,91723 |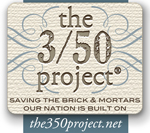 Proud Supporter of the 3/50 Project
We are very happy and proud to be supporting a great project aimed at boosting our OWN local economy! Did you know that for every $100 you spend at a locally owned store, $68 stays in the community via payroll, taxes, etc. but if you spend that same amount of money at a nationally owned chain store, only $43 stays here? And if you buy online, $0 benefits our city...unless it's a locally owned web business....so before you spend your hard earned money, think about how that will impact our great part of the world.
Click on the 3/50 Project Logo to get more details.