Nestled at the foot of the San Gabriel Mountains, about 20 miles east of Los Angeles, in the heart of the San Gabriel Valley. Intimate and neighborly, the Covina Downtown still retains an authentic hometown atmosphere where friendliness is a tradition.
---
Business Spotlight:
The Artist Pizzeria
The Artist Pizzeria delights in allowing our diners the unique experience of being their own food artists. Whether you're creating the perfect pie or salad, we provide the highest-quality, freshest ingredients for your palette.

For our pies we use "00" Caputo pastry flour imported from Italy, and only 100% Grande Cheese from Wisconsin, "The Finest Italian Cheese Money Can Buy". Our pizzas are always hand tossed and stone fired in one of our two Earthstone ovens. Our salads are made with the freshest ingredients, locally sourced whenever possible. We offer a large variety of toppings that are sure to allow you to craft the perfect pizza or salad.We also serve Stonefired Wings, "always baked never fried", Calzones, Nutella Desert Pizzas, and cookies baked fresh every day. We are also entering the "Craft Beer" arena with 6 beers on draft and lot's of bottled choices.

Dine with us at The Artist Pizzeria and "unleash your inner artist" to craft the perfect pizza pie or salad, while enjoying the atmosphere of our brand new dining room or extra large street side patio. We also have 80" TV's inside and out, so tell us which game you would like to watch!
113 N. Citrus Ave. (626) 343-9960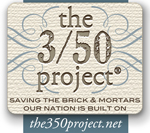 Proud Supporter of the 3/50 Project
We are very happy and proud to be supporting a great project aimed at boosting our OWN local economy! Did you know that for every $100 you spend at a locally owned store, $68 stays in the community via payroll, taxes, etc. but if you spend that same amount of money at a nationally owned chain store, only $43 stays here? And if you buy online, $0 benefits our city...unless it's a locally owned web business....so before you spend your hard earned money, think about how that will impact our great part of the world.
Click on the 3/50 Project Logo to get more details.