Nestled at the foot of the San Gabriel Mountains, about 20 miles east of Los Angeles, in the heart of the San Gabriel Valley. Intimate and neighborly, the Covina Downtown still retains an authentic hometown atmosphere where friendliness is a tradition.
---
Business Spotlight:
Private Beach Tanning
We invite you to visit us at the brand new Private Beach Tanning salon located on College Street in downtown Covina. Open 7 days a week and voted the best tanning salon in the San Gabriel Valley, we offer everything from tanning beds to airbrush tans, and even herbal body wraps and teeth whitening while you tan! We offer standard tanning beds, quick beds, stand-up beds and even the amazing bronzing bed! Our friendly staff will be sure to help you find the perfect bed and even tanning lotion just right for you. Our airbrush tan is flawless and natural, guaranteed to make you look like you've just spent a week at the Bahamas! Our herbal body wraps are amazing, and results in inch loss! We also have certified estheticians available on staff who offer facials, waxing and even eye lash extension. Why wait, call today at (626) 339-5461 or visit us at 138 College street. Check out our website at www.privatebeachtanning.com to see our special offers. Come relax on your very own Private Beach.

Events in Downtown Covina:
| | |
| --- | --- |
| Wednesday-Oct. 5th | Ron Shy In Concert - The Garden Room@ Giovanni's,114 e Italia st.,Covina,Ca,91723 |
| Friday-Oct. 7th | Vintage Muisc - Azo Vino,144 W Badillo St, Covina, CA, 91723 |
| Friday-Oct. 7th | the 4orce - Azo Vino Wine Bar,144 W Badillo St, Covina, CA, 91723 |
| Saturday-Oct. 8th | Soundbytes - Dancing - Azo Vino,144 W Badillo St, Covina, CA, 91723 |
| Saturday-Oct. 8th | Covina Thunderfest & Music Festival - Downtown Covina |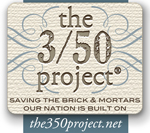 Proud Supporter of the 3/50 Project
We are very happy and proud to be supporting a great project aimed at boosting our OWN local economy! Did you know that for every $100 you spend at a locally owned store, $68 stays in the community via payroll, taxes, etc. but if you spend that same amount of money at a nationally owned chain store, only $43 stays here? And if you buy online, $0 benefits our city...unless it's a locally owned web business....so before you spend your hard earned money, think about how that will impact our great part of the world.
Click on the 3/50 Project Logo to get more details.